Sora Minamoto


Sora is the best friend of Ayden Grit and girlfriend of Ren Krawler.

Personal data

Real name

Sora Minamoto
Age
16 (Spread Your Wings)
Gender
Female
Species
Human
Occupation
Battle Brawlers member
Neathian Castle Knight
Morality
Good

Living status

Alive

Additional info
Origins
Birth date
January 8
Ethnicity
Japanese
Nationality
Japanese
Appearance

Hair color

Brown, black bangs

Eye color

Blue

Skin color

Peach
Height
5"5' (167.6 cm)
Weight
148 lbs. (67.1 kg)
Relationships

Love interest

Ren Krawler
Son
Soren Krawler
Affiliation
Battle Brawlers, Castle Knights
Ace monster
Leviathan, Plezira
Friends
Ayden Grit
Enemies
Twelve Orders, Ren

(former)

Powers and skills
Attribute
Aquos
Skills
Musical skills, guitar playing
Weaknesses
Short temper, lacking more advanced accessories in Bakugan battles
Equipment
BakuWatch

Production notes

Created by

Zephyros-Phoenix

Appearances

Second Chances
Spread Your Wings
Affections Touching Across Dimensions
"
I thought that everything you said to me was a lie, so you could get close to Dan and the others. I thought that what we had didn't matter to you.
– Sora Minamoto
"
This page is comprised of Sora Minamoto's relationships with characters she has interacted with.
Affiliations
Battle Brawlers
Sora is a member of the Battle Brawlers.
Neathian Castle Knights
Sora is a member of the Neathian Castle Knights.
Relatives
Soren Krawler
In Affections Touching Across Dimensions, Sora is very loving, kind and nurturing to her son Soren. Despite this, she is strongly resistant to talking about Soren's father, Ren, with him as Ren broke Sora's heart before Soren was born and she wanted to protect her son from suffering the same thing. However, Soren seemed determined to learn about him and Sora relented. When she found out Soren ran off to Gundalia to find him, though she was furious and extremely worried about him, she eventually agreed to let him stay.
Love interest
Ren Krawler
Sora formed a strong bond with Ren when he first arrived on Earth and they began dating. However with his betrayal, Sora was heartbroken, but buried those feelings deep down to deal with the pain. She is strongly conflicted about her feelings for Ren especially after encountering him on the battlefields of Neathia. Sora was barely able to push herself through the interaction by reminding herself that Ren was now the enemy. However, this failed to do the trick for her when Ren expressed interest in betraying Gundalia to rejoin the Brawlers. During his battle with Fabia, Sora found herself both wanting Ren to win and lose, unable to settle on whether she wanted to forgive him or never see him again.
Friends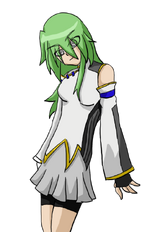 Ayden is Sora's best friend and the first person she met after moving into Dan's old house. The two developed a strong friendship and Ayden's status as an alien is little discomfort to Sora. During the course of Spread Your Wings, Sora begins feeling conflicted about her feelings for Ren - realizing that she is still in love with him but being unable to move past his betrayal and lies - Ayden provides Sora with advice and tries to help her friend as much as she can.
Ad blocker interference detected!
Wikia is a free-to-use site that makes money from advertising. We have a modified experience for viewers using ad blockers

Wikia is not accessible if you've made further modifications. Remove the custom ad blocker rule(s) and the page will load as expected.