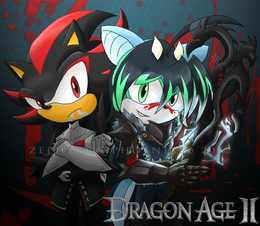 Sonic Age: Champions of Mobius
is a crossover of the Dragon Age series and Sonic the Hedgehog series. It is a retelling of the events of Dragon Age 2 with characters from the Sonic the Hedgehog series taking on roles of characters in Dragon Age 2.
Synopsis
Sonic, Sally and Knuckles - three best friends from the small town of Knothole in Northamer - flee their home when the Blight is unleashed and seek refuge in Albion, a city filled with templars and tyranny. Along the way, they meet new allies Bunnie, a fierce soldier; Umber, a dextrous rogue determined to protect his apostate sister, Azure, from templars; Rotor, a suave businessman and avid biographer; Amy, a blood mage who is considered a pariah among her clan; Shadow, an ex-slave with a hatred for mages; Rouge, a beautiful and dazzling ex-pirate with a knack for thievery; Rob, an archer of royalty and a Chantry brother; and Silver, a former Grey Warden and apostate, bonded with a spirit of the Fade. While Sonic tries to make a name for himself, he finds himself in the middle of conflicts between Viscount Bee and Mammoth Mogul and Knight-Commander Lien-Da and First Enchanter Geoffrey.
Characters
Main Characters
Supporting Characters
Minor Characters
Trivia
Character relations are primarily based on the Dragon Age characters portrayed. Blood relations will not exist between characters unless stated as such.

For example, while Sonic, Sally and Knuckles portray the Hawke siblings, they are not related. Another example would be Lien-Da and Julie-Su. Despite being half-sisters, the characters they play are not related.

Various locations and names have been changed to names all found in the Sonic comics:

Kirkwall - Albion
The Maker - Solaris
Andraste - Elise
Sundermount - Gigan Mountains
Ferelden - Northamer
Lothering - Knothole
Denerim - New Mobotropolis
Ostagar - Old Mobotropolis
Gwaren - Soleanna
The Free Marches - Eurish
Starkhaven - Mercia
Tevinter Imperium - Yurashia
Minrathous - Dragon Kingdom
Waking Sea - Emerald Sea
Qunari - Ixian
The Anderfels - The Silverfels
Par Vollen - Devil's Gulag
Orlais - Overland
Antiva - Soumerca
Rivain - Efrika
Seheron - Cocoa Island
Thedas - Mobius
Red Iron - Echidna Reds

This series is based on Halloween picture depicting Shadow as Fenris and Azure the Dragon as a mage Hawke above.
The darkspawn are renamed the eggspawn and styled after Eggman's robots and Eggman himself.
Tails takes on both Bodahn Feddic and Sandal's role as merchant and enchanter.
Amy was originally intended to be Bethany with Cream as Merrill.

Had Cream remained chosen as Merrill, Vanilla would have been chosen for Keeper Marethari.

Alternate roles for Blaze include Aveline and a genderbent Sebastian.
Sonic, Azure and Umber each embody a version of Hawke both in class and personality.
Dragon Age character Leandra Amell is not featured and therefore quests related to her (Birthright and All That Remains) are excluded.
External Links
Ad blocker interference detected!
Wikia is a free-to-use site that makes money from advertising. We have a modified experience for viewers using ad blockers

Wikia is not accessible if you've made further modifications. Remove the custom ad blocker rule(s) and the page will load as expected.