Pebbles is an adult drake currently living at Ueno Castle.
Background
Pebbles is a common drake born and raised in Ueno Castle. She does not belong to any specific agent and is more of a guard dog for the actual castle. She is very mature and does not often partake in leisurely activities.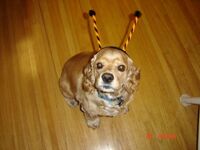 Trivia
Pebbles is based on Zephyros-Phoenix's late Cocker Spaniel of the same name.
Ad blocker interference detected!
Wikia is a free-to-use site that makes money from advertising. We have a modified experience for viewers using ad blockers

Wikia is not accessible if you've made further modifications. Remove the custom ad blocker rule(s) and the page will load as expected.