Madison is a newly hatched drake currently living at Ueno Castle.
Background
Madison is a herding drake born and raised in Ueno Castle. She does not belong to any specific agent and is more of a guard dog for the actual caste. She is still very young but quite territorial. She is also overly affectionate and constantly vies for attention from others, putting her in competition with Dinoon occasion.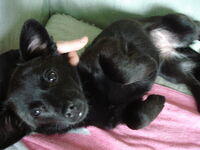 Trivia
Madison is based on Zephyros-Phoenix's Terrier-Chihuahua puppy of the same name.
Ad blocker interference detected!
Wikia is a free-to-use site that makes money from advertising. We have a modified experience for viewers using ad blockers

Wikia is not accessible if you've made further modifications. Remove the custom ad blocker rule(s) and the page will load as expected.