Kabuto the Beetle

Personal data

Real name

Hunter Tilasm
Alias
Kabuto
Age
21
Gender
Male
Species
Mythsetian rhinoceros beetle
Occupation
Head of the House of Tilasm
Morality
Good

Living status

Alive

Additional info
Origins

Place of origin

Mythsetia Veil
Nationality
Mythsetian
Appearance

Eye color

Gold

Skin color

Dark blue

Scale color

Red, peach
Height
4"1'
Weight
94 lbs.
Relationships
Siblings
Kuwaga the Beetle
Ancestor
Tilasm
Affiliation
House of Tilasm, Mythsetia Veil
Friends
Ezo, Okami
Powers and skills
Powers
Talisman magic, durable exoskeleton, flight, super strength, wallcrawling
Skills
Talisman carving
Weaknesses
Talisman magic dependent on energy and concetration
Equipment
Talismans, horn, Amulet of Tilasm

Production notes

Created by

Zephyros-Phoenix

Appearances

Whitewash (mentioned)
Hostile Encounters
"
Kabuto's a little hot headed. He gets out of hand quite a bit.
– Kuwaga the Beetle
"
This page is comprised of Kabuto the Beetle's relationships with various other characters he interacts with.
Affiliations
Kabuto is a member of and head of the House of Tilasm.
Relatives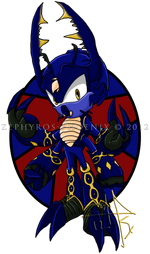 Kuwaga is Kabuto's younger, fraternal twin brother. Kabuto is very close with his younger brother, so much in fact that he can be very protective of Kuwaga. He doesn't like doing things with anyone other than Kuwaga and prefers knowing where his brother is, preferably with him. However, Kabuto can overcome this attachment from time to time, such as when he attends to his duties as head of his house. When it comes to magic, Kuwaga's defensive and enhancement talismans greatly compliment that of Kabuto's offensive and attack talismans, making the two a deadly combination.
Friends
Ezo and Okami are the only other pair of twins in the Mythsetia Veil and are Kabuto and Kuwaga's closest friends. The four bonded over being twins, which was something they felt no one else could properly understand.