Ezo the Wolf


Ezo is a cyborg technomage and a member of the House of Galen.

Personal data

Real name

Ezo Galen
Age
17
Gender
Male
Species
Mythsetian hokkaido wolf/cyborg
Morality
Good

Living status

Alive

Additional info
Origins

Place of origin

Mythsetia Veil
Nationality
Mythsetian
Appearance

Eye color

Green

Fur color

White, red
Height
3"7'
Weight
124 lbs.
Relationships
Father
Fenrir
Siblings
Okami
Cousins
Lobo, William, Jacqueline
Uncle
Anubis
Ancestor
Galen
Affiliation
House of Galen, Mythsetia Veil
Powers and skills
Powers
Technomage abilities, enhanced strength
Skills
Martial arts
Weaknesses
EMP, magnetic fields, shy attitude, has yet to master cybernetics
Equipment
Cybernetic legs

Production notes

Created by

Zephyros-Phoenix

Appearances

Whitewash (mentioned)
This page is comprised of Ezo the Wolf's relationships with various other characters he interacts with.
Affiliations
Ezo is a member of the House of Galen.
Relatives
Fenrir was Ezo's father. The exact details of their relationship is unknown due to Fenrir's death prior to the story, but it's likely Fenrir loved his children greatly, since Ezo's blue headband originally came from his father.
Anubis is Ezo's paternal uncle. After the death of his father, Anubis raised Ezo and Okami as if they were his own.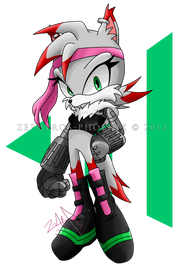 Okami is Ezo's older twin sister. Ezo has a very close relationship with his sister which borders on extreme dependence. While he can interact with his cousins and others, he is still quite socially awkward and usually resorts to hiding behind Okami while letting her to all the talking. He feels comfortable interacting with Kabuto and Kuwaga since they are also twins.
Friends
Ezo gets along incredibly well with Kabuto and Kuwaga of the House of Tilasm, due to the fact that the brothers are also twins.
Ad blocker interference detected!
Wikia is a free-to-use site that makes money from advertising. We have a modified experience for viewers using ad blockers

Wikia is not accessible if you've made further modifications. Remove the custom ad blocker rule(s) and the page will load as expected.