Carey the Caracal


Carey is a member of the House of Arch.

Personal data

Real name

Carey Arch
Age
16
Gender
Female
Species
Mythsetian caracal
Morality
Good

Living status

Alive

Additional info
Origins

Place of origin

Mythsetia Veil
Nationality
Mythsetian
Appearance

Hair color

Orange-brown

Eye color

Yellow

Skin color

Peach

Fur color

Sandy orange
Height
3"3'
Weight
72 lbs.
Relationships

Love interest

Jack the Dingo
Siblings
Taika
Cousins
Raphaella, Snow and Joan
Ancestor
Arch
Affiliation
House of Arch
Friends
Snow
Powers and skills
Skills
Close combat, martial arts, swordsmanship
Weaknesses
No spellcasting powers
Equipment
Guan dao

Production notes

Created by

Zephyros-Phoenix
This page is comprised of Carey the Caracal's relationships with various other characters she interacts with.
Affiliations
Carey is a member of the House of Arch.
Relatives
Carey is particularly close with her cousin, Snow, who shares her preference for close range fighting rather than long rage spellcasting. The two spar with each other nearly everyday. Initially, Snow promised he would not use his magic, so as to keep the match fair, but Carey instead encouraged him to use it and didn't want him to hold back just because she didn't have magic.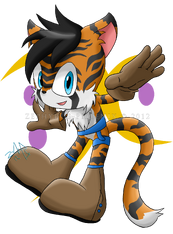 Taika is Carey' younger brother by seven years. Despite being the only one in her family without any magical abilities, Carey is quite all right with having no supernatural powers and does not display any signs of jealousy. However, she is always determined to prove that she can do just fine without magic. Taika has a habit of trying to use his magic to do something nice for her, though sometimes his intended effects backfire.
Love interest
Jack the Dingo is Carey's future love interest, whom she is set to meet during Bloodlines.
Ad blocker interference detected!
Wikia is a free-to-use site that makes money from advertising. We have a modified experience for viewers using ad blockers

Wikia is not accessible if you've made further modifications. Remove the custom ad blocker rule(s) and the page will load as expected.