This page refers to the Dragon Age fan character, Ari Wolfe. For other uses of Arianna and Wolfe, see Arianna and Wolfe respectively.
Ari Wolfe


Ari Wolfe is an apostate mage and the leader of the Wolfe Pack.

Personal data

Real name

Arianna Wolfe

Nicknames

Ari, Wolfe, Farm Girl
Age
17
Gender
Female
Species
Human
Classification
Mage

Living status

Alive

Additional info
Origins

Place of origin

Lake Calenhad, Ferelden
Appearance

Hair color

Light brown

Eye color

Light blue

Skin color

Peach
Relationships

Love interest

Theron
Father
Ser Percival, Harold Wolfe (adoptive)
Mother
Samsara, Nicole Wolfe (adoptive)
Affiliation
Wolfe Pack
Friends
Sere, Julia, Gaius, Nicholas, Ripley
Powers and skills
Powers
Elemental, primal, force magic, minor creation magic
Skills
Trained fighter with staff
Weaknesses
Loss of mana prevents use of magic, close combat
Equipment
Voracity staff

Production notes

Created by

Zephyros-Phoenix
This page is comprised of Ari Wolfe's relationships with various other characters she interacts with. A kind, caring and hard working girl, Ari enjoys helping others and seems to change the lives of everyone she meets.
Affiliations
Ari is a founding member of and leader of the Wolfe Pack.
Relatives
Ser Percival (biological father)
Samsara (biological mother)
Harold and Nicole Wolfe (adoptive parents)
Harold and Nicole Wolfe
Harold and Nicole are Ari's adoptive parents. They were kind, caring and nurturing parents whom Ari loved deeply. She resented them slightly after discovering that they hid the truth of her real parentage from her, but eventually came around to forgiving them, still viewing them as her real parents.
Ser Percival and Samsara
Ser Percival and Samsara are Ari's biological parents, a Templar and Circle Mage of the Ferelden Circle Tower. Ari was taken from her mother the moment she was born, but Percival was able to move her to a happy farming couple. Ari only recently becomes aware of her true parentage and sets out to find her birth parents.
Love interests
Allies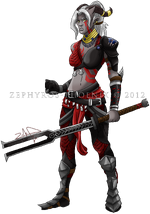 After Ari ran away from her village to escape the Templars, she and Sere met and decided to travel together. Sere was supportive and nurturing to Ari, becoming a mother-like figure to her.
Ad blocker interference detected!
Wikia is a free-to-use site that makes money from advertising. We have a modified experience for viewers using ad blockers

Wikia is not accessible if you've made further modifications. Remove the custom ad blocker rule(s) and the page will load as expected.