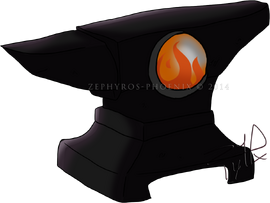 The
Anvil of Forgus
is a
sacred item
to the
House of Forgus
. It is a large, black anvil with an eternal magical flame burning inside it, which can be viewed through a small curved window. It is a powerful magical anvil that originally belonged to
Forgus
and was eventually passed down to each subsequent family head. The current owner is
Vulcan the Bull
.
Background
Origin
The Anvil of Forgus originally belonged to Forgus, the founder of the House of Forgus from the Mythsetia Veil. It was eventually passed down to his descendants and currently rests in the hands of Vulcan the Bull, the only living descendant of Forgus. During the Great Purge, the Anvil was taken to the Sanctuary Zone during the House of Forgus' escape where it remained with the family's final descendant, Vulcan.
The Anvil is a special piece of magical equipment that is able to forge any piece of weaponry or equipment as desired by the individual using it. Legend says that it was used to forge all the other sacred relics.
</onlyinclude>
Ad blocker interference detected!
Wikia is a free-to-use site that makes money from advertising. We have a modified experience for viewers using ad blockers

Wikia is not accessible if you've made further modifications. Remove the custom ad blocker rule(s) and the page will load as expected.